Azerbaijan
Vice President for Renewable Energy and Sustainable Development
---
  Farhad Aliyev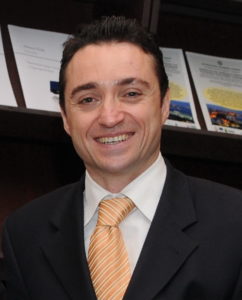 Education: Bachelor in Finance and Economics at the Azerbaijan State Economic University (1995).
Master of Science in Industrial Engineering Concentrated in Management of Technology at the University of Miami (2000). MBA in International Business and Marketing (2004), PhD on Sustainable Energy Development at the Atlantic International University (2015). 
Publications: Up to ten (10) published articles including co-author of the International Dictionary of energy terms in English-Russian-Azerbaijani and the Textbook of Ecology. 
Author data: In addition to his career in oil and gas corporate world he held positions at the different scientific and pilot projects in promoting Renewable Energy Sources usage, Energy Efficiency, Sustainable Development, Green Economy, and Environmentally Friendly Technologies. 
Scientific-research fields: Such projects include, UNIDO-ICHET Pilot Project (United Nation Industrial Development Organizations-International Center for Hydrogen Energy Technologies) to establish Hydrogen Filling Station Plant. Mr. Aliyev performed as adviser on USAID Fund Project to promote Advocacy Campaign on "Effective Utilization of Renewable Energy" in the region. Since, middle of the 2011, Mr. Aliyev was an expert on the European Union's (EU)
New Energy Support Reforms Program Project: "Improvement of Azerbaijan's legislation relating to Renewable Energy Sources and Energy Efficiency and its bringing in conformity to the EU legislation under EU Program"